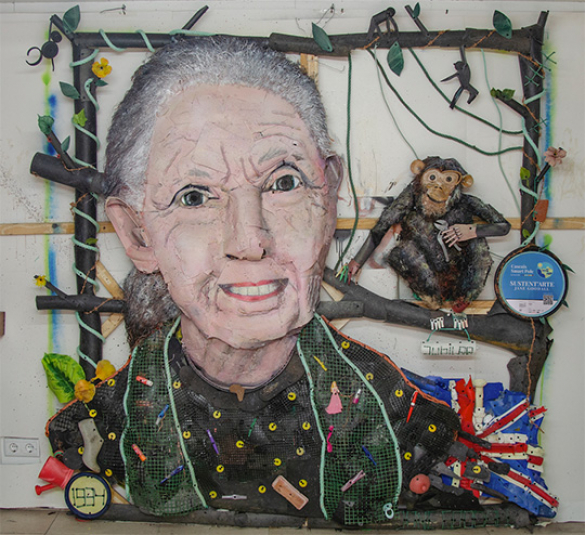 Valerie Jane Morris-Goodall was born on April 3, 1934. She is an English primatologist, ethologist and anthropologist.
Regarded as the world's foremost expert on chimpanzees, Goodall is recognized for her 60 years of studies on the social and family interactions  of chimpanzees. Goodall, who was interested in animal behavior from an early age, left school at the age of 18. She worked as a secretary and as a film production assistant, and in July 1960 she traveled from England to what is now Tanzania and ventured into the little-known world of wild chimpanzees.

Equipped with little more than a notebook, binoculars, and her fascination with wildlife, Jane Goodall braved a realm of unknowns to give the world a remarkable window into humanity's closest living relatives. Once there, Goodall began assisting paleontologist and anthropologist Louis Leakey. Her association with  Leakey led to the creation, in June 1960, of a camp in the Gombe Stream Game Reserve (now a national park) so that she could observe the behavior of  chimpanzees in the region. In 1964 she married a Dutch photographer who had been sent in 1962 to Tanzania to film her work (they later divorced).

Over nearly 60 years of pioneering work, Dr. Jane Goodall not only showed the urgent need to protect chimpanzees from extinction, but also redefined species conservation to include the needs of local populations and the environment.

Through her research and unorthodox approaches, immersing herself in their habitat and lives to experience their complex society as a neighbor rather than a distant observer, Jane Goodall was able to correct several misunderstandings about chimpanzees. She discovered, for example, that the animals are omnivores, not vegetarians; that they can make and using tools; and that they have complex and highly developed social behaviors. Jane Goodall redefined the relationship between humans and animals in ways that continue to emanate around the world.

In 1965 she obtained a PhD in ethology from Cambridge University; she was one of very few candidates who received a PhD without first having a degree. Except for short periods, Goodall and her family remained in Gombe until 1975.

In 1977, she founded the Jane Goodall Institute for Wildlife Research, Education and Conservation in California to ensure that her vision and life's work would  continue to mobilize the collective power of individual action to save the natural world we all share. The center later moved its headquarters to the Washington, D.C. area.

By the late 1980s, it became clear that Gombe was only part of the solution to a much larger and rapidly growing problem of deforestation and declining chimpanzee populations throughout Africa. Knowing that local communities are critical to protecting chimpanzees, it redefined traditional conservation with an approach that recognizes the central role people play in the well-being of animals and habitat.

He has also created several other initiatives and in 1991, when a group of young people confided his deep concerns, he invited them to co-found Roots & Shoots, a program working with young people in 100 countries to foster the informed generation of conservation leaders that our world so urgently needs.
Goodall wrote several books and articles, notably "In the Shadow of Man" (1971) and summarized his years of observation in "The Chimpanzees of Gombe: Patterns of Behavior" (1986).

In 2000, to ensure the safe and ethical treatment of animals during ethological studies, Goodall, together with Professor Mark Bekoff, founded the organization Ethologists for the Ethical Treatment of Animals.
In 2002, she became a United Nations Messenger of Peace and in 2003, Queen Elizabeth II appointed her as a Dame of the British Empire.
In August 2019, Goodall was honored for her contribution to science with a bronze sculpture in midtown Manhattan, along with nine other women, part of the "Statues for Equality" project.
In 2020, continuing her organization's work on the environment, Goodall has promised to plant 5 million trees, part of the 1 trillion tree initiative founded by the World Economic Forum.

Time magazine named Goodall as one of the 100 most influential people in the world in 2019, and in 2021 he received the Templeton Prize. On March 3, 2022, in celebration of International Women's Day, Lego paid tribute to her by depicting her in a minifigure with three chimpanzees in an African forest scene.

In July 2022, toy manufacturer Mattel portrayed her in a Barbie as part of the "Inspiring Women" series. Jane Goodall went into the forest to study the remarkable lives of chimpanzees and came out of the forest to save them. Today, she writes and travels the world spreading hope through action, encouraging each of us to "use the gift of our lives to make the world a better place".
In her latest book "The Book of Hope" she reflects, in a stimulating and intimate dialogue, on her "four reasons for hope": The Marvelous Human Intellect, The Resilience of Nature, The Power of Youth, and the Indomitable Human Spirit.

Jane Goodall is 88 years old.
Sustent'Arte's piece "Jane Goodall" was inspired by the photograph used by "The Guardian" newspaper in one of its interviews in 2021. The installation depicts the wild environment of the forests where Jane worked and her relationship with the chimpanzees. This relationship is also mirrored in Jubilee, a stuffed chimpanzee that her father gave her when she was just over a year old and that still accompanies her everywhere.
Different elements that represent women were placed on the installation's shirt, enhancing Jane Goodall's crucial role in women's access to research.