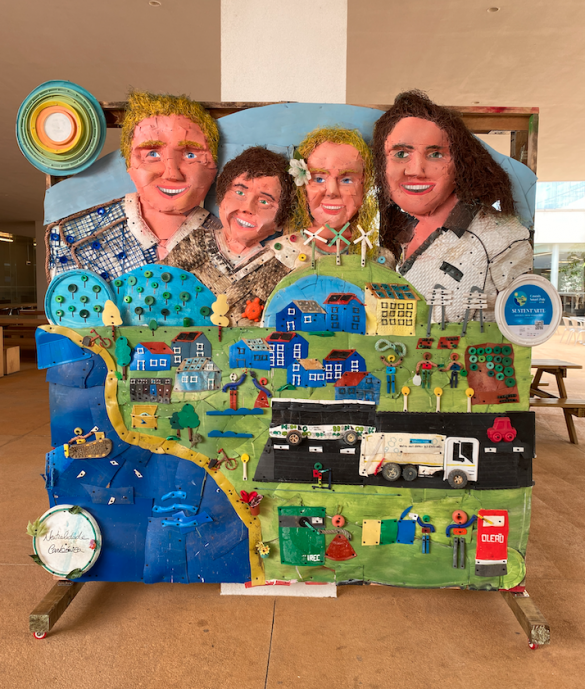 The installation of the unknown activist is inspired by the collective effort of the inhabitants of Cascais in the field of environmental and social sustainability.
Since the beginning one of the main goals of the Cascais Smart Pole has been to involve the community in the vision that individual and collective climate action is one of the main vectors of decarbonisation and the path towards carbon neutrality.
In Cascais there are many people who individually and/or through entities, including Associations, NGOs, Academia, and the private sector, contribute every day so that Cascais can be an inspiring example of sustainable development.
This installation is based on the graphic image of the Cascais Smart Pole by Nova SBE project, which represents an innovative territory where the sun and light are crucial elements, a space to act as a smart territory and a living laboratory for initiatives linked to renewable energy, energy efficiency, mobility, green spaces, the circular economy, and water.
Cascais was the first municipality in the country to have a roadmap for carbon neutrality, a document that the municipality presented in December 2019 at COP25 and has implemented a series of measures, both in adaptation and mitigation of climate change.
In the installation, the Cascais community is represented, as well as some differentiating and pioneering initiatives that Cascais has already implemented: oleões and the transformation of used cooking oil, IREC with an innovative system in recycling, the first electric truck for the collection of solid urban waste, the hydrogen buses, the containers of the Vozes do Mar project (Claro Association), the urban gardens or the energy communities, among others.
This installation represents the daily effort of the people of Cascais and those who work and study in Cascais to change their behaviour and aims to convey the message that the community is the engine of innovation and change.