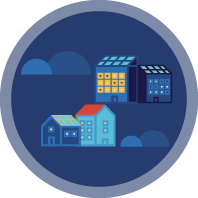 In Portugal, on average, buildings are responsible for almost 30% of energy consumption and consequently a significant volume of CO2 emissions into the atmosphere.
Reducing this represents an ambitious challenge. Why is that?
Because a significant increase in energy demand is expected in the coming decades. With increasingly extreme winters and summers we will be resorting more to air conditioning in buildings, which will undoubtedly be one of the focuses of reflection regarding energy consumption. 

But are we using the energy we need efficiently?
Energy efficiency applied to buildings is precisely Veolia's area of intervention within the Cascais Smart Pole through the implementation on the Nova SBE
Campus of an intelligent energy optimization system for both the HVAC system and lighting systems.
Based on wi-fi access data and information generated by sensors at indoor air quality measurement points, it will be possible to interact with both HVAC systems, adapting the production of treated air to actual needs, and lighting systems, optimizing energy consumption in both cases and consequently the corresponding CO2 emissions.