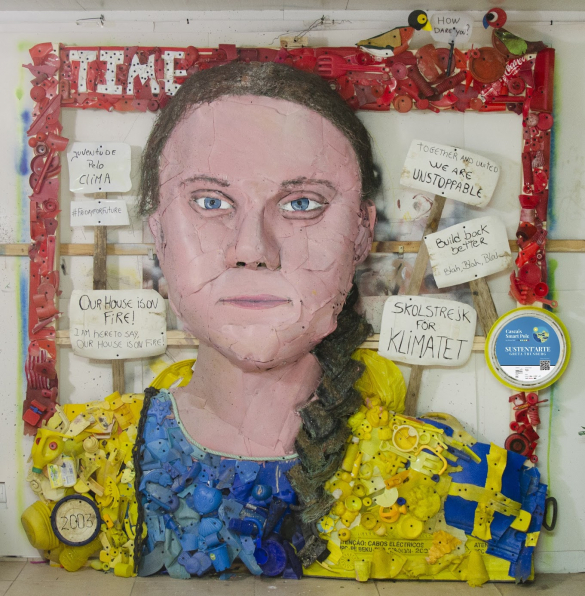 Greta Tintin Eleonora Ernman Thunberg, born 3 January 2003 is a Swedish environmental activist who is known for challenging world leaders to take immediate action on climate change mitigation.
Thunberg says she first heard about climate change in 2011, when she was eight years old, and could not understand why so little was being done about it. The situation depressed her and as a result, at the age of 11, she stopped talking and eating and lost ten kilos in two months.
Thunberg's activism began when she persuaded her parents to adopt lifestyle choices that reduced their own carbon footprint. In August 2018, at the age of 15, she began spending her Fridays outside the Swedish Parliament to call for stronger action on climate change, holding a banner that read Skolstrejk för klimatet (School strike for climate). Thunberg made a name for herself by her youthfulness and by her direct and frank way of speaking both in public and to political leaders and assemblies, in which she criticizes world leaders for not taking what she considers to be sufficient action to tackle the climate crisis.
Quickly other students became involved in similar protests in their own communities. Together they organized a climate strike movement under the name Fridays for Future. After Thunberg addressed the 2018 United Nations Climate Change Conference, student strikes were held every week around the world. In 2019, there were multiple coordinated protests in various cities involving over a million students. To avoid carbon-intensive flights, Thunberg sailed on a yacht to North America, where she attended the 2019 UN Climate Action Summit. Her speech, in which she exclaimed "You all come to us young people for hope. How dare you? You have stolen my dreams and my childhood with your empty words," was widely reported in the press.
Her sudden rise to worldwide fame made her both a leader in the activist community and a target for criticism, especially due to her youth. Her influence on the world stage has been described by The Guardian and other newspapers as the "Greta effect". She has received numerous honors and awards, including an honorary fellowship from the Royal Scottish Geographical Society, inclusion in Time Magazine's 100 most influential people in the world, inclusion in the Forbes list of the World's 100 Most Powerful Women, and nominations for the Nobel Peace Prize in 2019, 2020, and 2021.
Greta Thunberg has been diagnosed with Asperger's syndrome, ADHD, obsessive-compulsive disorder, and selective mutism. Although she acknowledges some difficulties because of her diagnosis, Thunberg says that depending on the circumstances, "being different is a superpower". Thunberg is a vegetarian and an animal rights activist.
In July 2020 she was awarded the Gulbenkian Prize for Humanity.
On 11 January 2022, a new species of frog discovered by researchers from Panama, Brazil, Germany, and the Czech Republic was given the scientific name Prismantis gretathunbergae, in honor of the Swedish activist.
The 2020 international co-produced documentary "I Am Greta", directed by Nathan Grossman, and premiered at the Venice Film Festival follows Greta Thunberg from August 2018, when she began her school strike. At the same time, it gives prominence to her struggles to protect the planet. The film will also show how Greta manages her personal dramas and the huge exposure she inevitably found herself involved in.
Greta Thunberg is 19 years old.
Sustent'Arte's "Greta Thunberg" piece is a montage inspired by several photographs, with the face, braid and yellow jacket being representative of the activist.
The red frame symbolizes the moment when she was recognized as one of the 100 most influential people in the world by Time magazine.
On the posters we can find some of her most emblematic phrases:
"Build back better. Blah, blah, blah"
"Our house is on fire. I am here to say, our house is on fire."
"Together and united, we are unstoppable."
"How dare you?"
The two birds with a small banner represent the fight to preserve the planet, to combat climate change and to protect biodiversity.
The climate strikes are represented by the phrases "SKOLSTREJK FOR KLIMATET", "#FRIDAYSFORFUTURE" e "JUVENTUDE PELO CLIMA"