Territorial enhancement and green spaces for all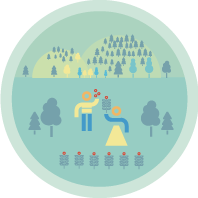 Green spaces and biodiversity adapted to climate change 
Urban green spaces contribute to improve air quality, soil fertility and water retention, attenuate urban noise and cool the surrounding areas. They also function as leisure places, fostering social integration, health and well-being of users. 
Through measures for the requalification and maintenance of green spaces, the project aims to enhance the ability to adapt to climate change and the promotion of biodiversity within the pilot area. The surface occupied by native vegetation will be increased, efficient irrigation systems will be installed, and techniques for retaining soil moisture will be implemented, thus reducing water consumption in the management of green spaces.
Volunteering, sports, and leisure activities will also be carried out to involve and raise awareness among the community about the benefits of these spaces in the development of more sustainable and resilient cities.