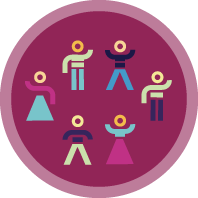 Climate change requires urgent responses, measures, and solutions. Everyone is called upon to take on a role. Raising awareness is an integral and crucial part of the road we all have to travel and spreading the message of the path to carbon neutrality through urban visual arts, reaching out to a wide range of audiences, is one of the ways we can ensure that tackling climate change is a matter for everyone.

There are many ways that artists all over the world have found to capture the attention of their audiences. And in times of growing a(r)tivism towards climate change and other environmental threats, artists are taking advantage of public spaces, creating an intentional language to intervene.
Artivism is about giving voice to artists who find the power of messages in art and reaching people, inspiring change. It is a cultural manifestation and culture is also one of the pillars of sustainable development.
It was on this premise that Sustent'Art was born, developed by Mar de Experiências , a climate roadmap that transforms waste collected at sea, on beaches and on the banks of rivers and forests into art and that will portray 6 personalities worldwide recognized for their active role in combating climate change.